Our successful FemDom, or Girls-on-Top, Parties.
The Parties will continue in 2019 on Wednesday 26th June
When Miss Parker will be joined by Donna Davenport from Leicester
For an afternoon of sophisticated punishment scenarios.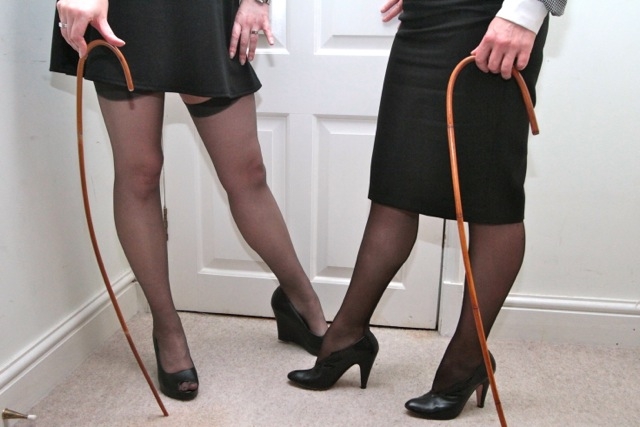 This will be a Party for those Gentlemen in need of good traditional Corporal Punishment, and to administer it we have the best Dominatrixes in London.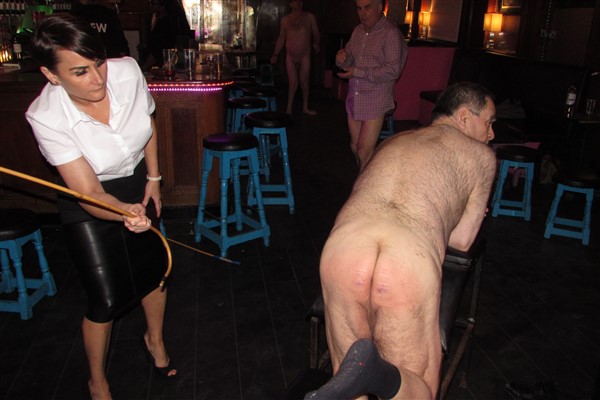 Mss Davenport at work at a previous 2kings party
MISS PARKER will be the leading Domme and will be joined at each party by other famous and fearsome ladies; her CP skills are renowned, as is her glamorous appearance.
The format of the FemDom party in June (only) starts with a chance for you to spank the Mistresses! We have decided to share the scenario with you in advance – read on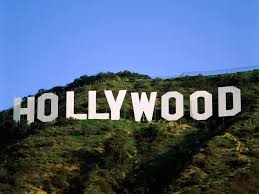 OR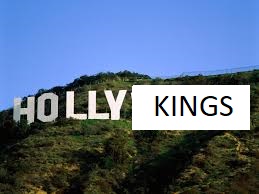 Yes, the party will start with YOU as actors in our first porn film here at Hollykings Erotic Productions.
* * * * * * * * * * * * * * * * * * * * * * * * *
STORYBOARD
Enter girls (Parker & Davenport)
Men prepare for scene. There's general conversation then they start finding specific faults with the girls.
Parker: How Dare You
Davenport: We aren't putting up with this behaviour
This leads to the men pulling the girls over their laps and raising skirts, pulling knickers down to below the knee, and giving a sound hand spanking.
Enter Director
(After each girl has received 24 hand spanks from each guy)
Director: CUT!
What is going on! You guys are supposed to be experienced erotic actors, and these ladies are the very top of the field performers – what are you doing??
The girls are not happy and inspect their bottoms, deciding they cannot work that day and filming must stop forthwith.
Parker: The script shows the ladies were meant to be in charge, and that is the way it is going to be!
Davenport: As we have time today now, we will start taking charge immediately
Director: They need to put you through your paces and make the point to you very clearly. This is a perverse start to our first production.
The FemDom party now commences correctly!
This will be an exclusive cast which is subject to change so put your name down NOW. Let us know your preferences and experience and your current ambitions – the ladies are expert at helping you to develop your abilities.
YOU COULD BE THE STAR PERFORMER!
Bookings may be made at any time and if you have any doubts or questions – or script suggestions! - please contact 2kings for further information and reassurance. Newcomers will be asked to pay a deposit for their first party.
Discretion assured and limits respected.
All of the above included for just £170 including lunch and drinks!
All Bookings to: parties@2kings.org.uk +44 (0)7887 762477
See the payments page for ways to pay.